Wedding Dress Sketch Gallery
Happy Tears Alert!!
A sketch of her wedding dress will bring her to happy tears!
🤍With the Dreamlines Sketch, you'll get🤍
A sketch of the dress she has been dreaming of since she was a little girl.
A perfect way to commemorate her dress which is stored away in a box.
A beautiful piece of art of the most magical day of her life.
Over 3,000 handcrafted wedding dress sketches created worldwide. Our sketches are given as Anniversary Gifts, Wedding Gifts, Valentines Day Gifts, Bridal Shower Gifts and so much more. 
Dreamlines Wedding Dress Sketch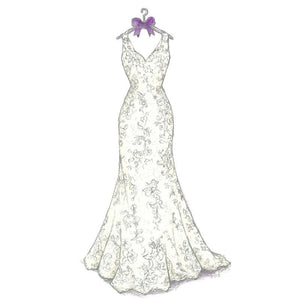 Wedding Dress and Suit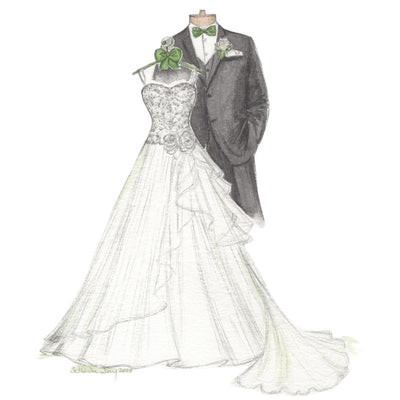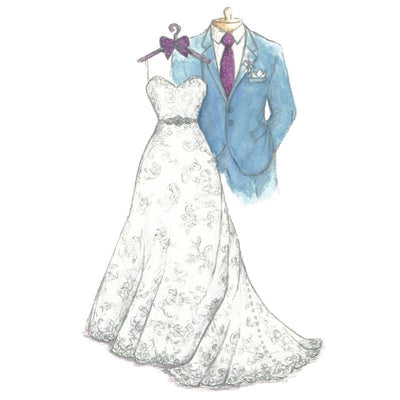 Full Front + Full Back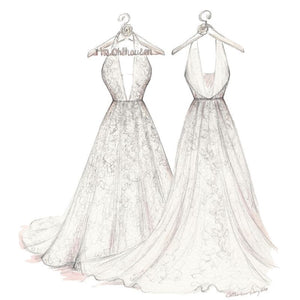 Gown + Military Uniform
Gown + Kilt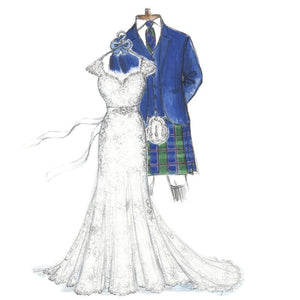 Sari + Kimono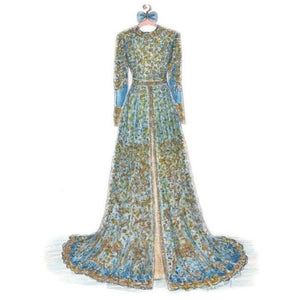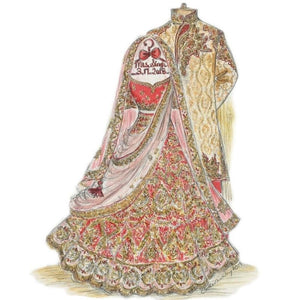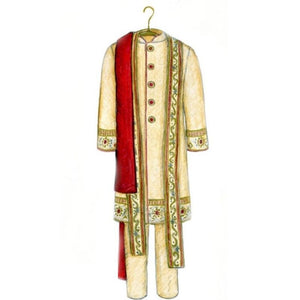 Bouquet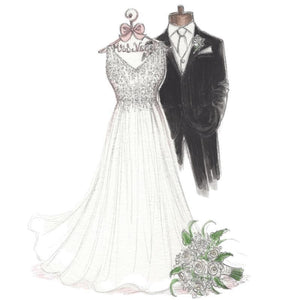 Veil / Small Back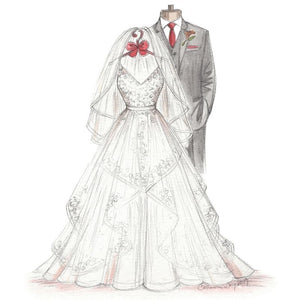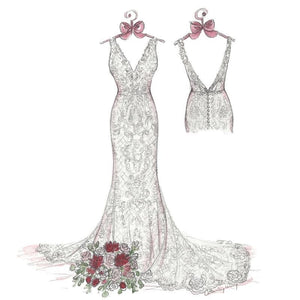 Personalized Hanger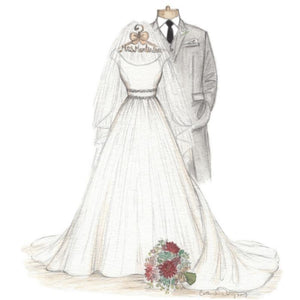 Shoes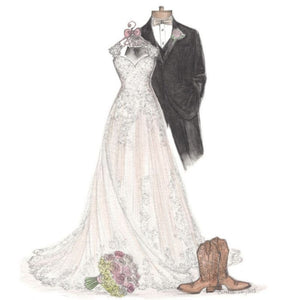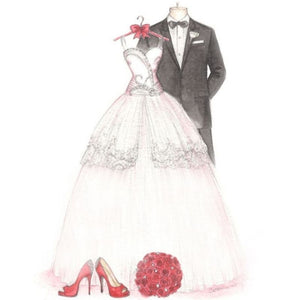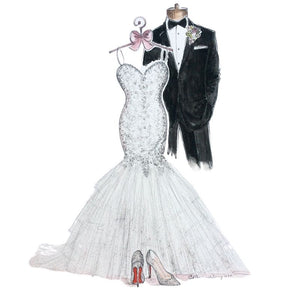 Silhouette / Scenery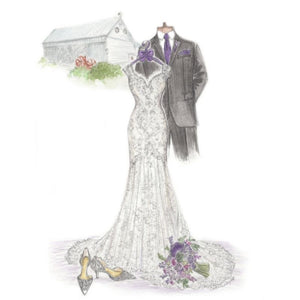 Pet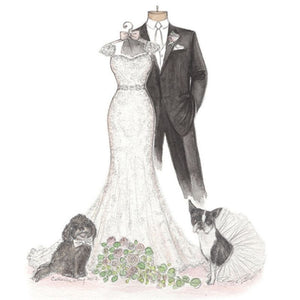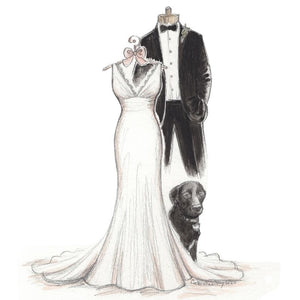 Flower Girl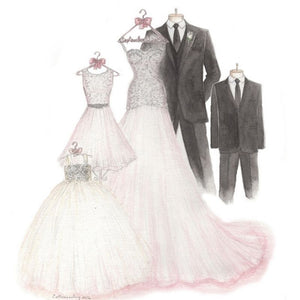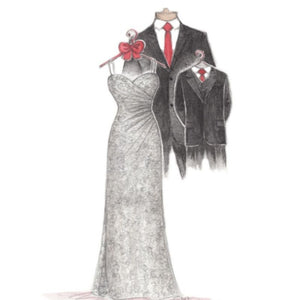 Frames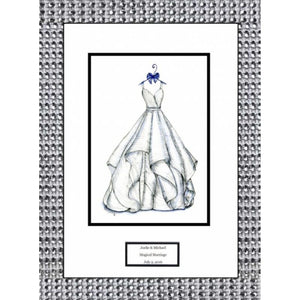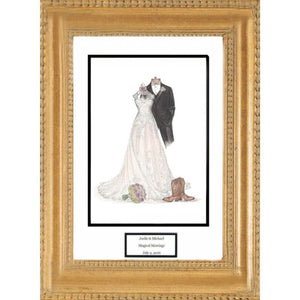 Mat Opening Options
Printed Pieces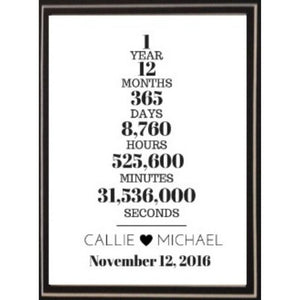 Happy Dreamlines Customers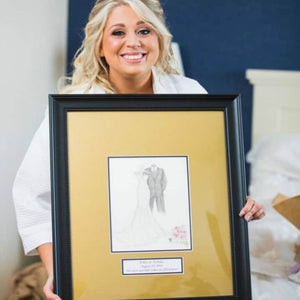 Celebrity Sketches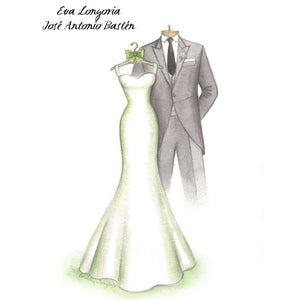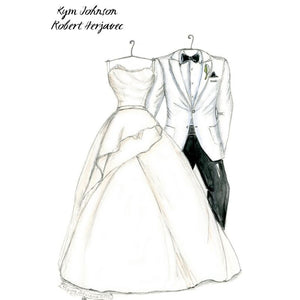 Dreamlines Wedding Dress Sketch
We know trying to find that perfect gift is everything. Wedding dress sketches encompass everything that is magical on the most amazing day of your lives together.
Her wedding dress is that one dress she has dreamed about since she was a little girl. A little girl with the pillowcase on the back of her head pretending to be the most beautiful bride.
Not only is a wedding dress sketch so special to her, but she has made a lot of effort with having the perfect heels, wedding bouquet and veil. A Dreamlines wedding dress sketch can encompass everything that is so important to her.
Every element of this day is something she will remember. Wedding photos are wonderful, but to also have a beautiful piece of art is something so special. A sketch of the dress, suit, and bouquet will truly take her breath away.
Her wedding dress is such a magical piece of her wedding day that makes this day epic and so memorable. She will wear many memorable dresses throughout her life, but this dress is the ultimate dress.
It is the dress she wishes she could wear every day, but will probably store away or donate. A Dreamlines Wedding Dress Sketch is the most perfect way to immortalize your magical day. 
We adore weddings, love, and romance. There is something about a celebrity wedding that is beyond magical. There are so many inspirational ideas that it is hard not to steal a few wedding ideas to make your wedding even more special.
We create the bride's wedding dress as this magical piece inspired by the glitz and glam from her magical day.
A fashion sketch of the most important dress the bride will ever wear. We have created over 3,000 sketches from different dress designers, from all over the world.
We love the glitz and glam so much that we created these celebrity sketches to showcase what is on the runway and what celebrities have worn.
Beauty is in the eye of the beholder and that is what makes a bride's wedding dress so special. Her wedding dress is a reflection of who she is and what her fashion style is.