2020 Wedding Trends
Wedding Gift Exchange & Guestbook Combined
Have a Dreamlines artist create a sketch of your wedding dress and suit. Have your guests sign the mat border of the frame, while having your personalized art displayed at your wedding reception.
Wedding Guestbook & Gift Exchange… Buy Now!
Bridesmaid Hangers, Cake Toppers & Bridal Decor
Amazing 2020 wedding trends include bridesmaid hangers, cake toppers, and bridal decor are just to name a few of what Black Label Decor can create. They have been featured on Say Yes to the Dress! as well as Wedding Chicks, 100 Layer Cake, Southern Weddings, Ruffled, The Overwhelmed Bride, The Perfect Palette, Utterly Engaged, and more!
Each one of their items is engraved and created in the Black Label Decor studio.
Jess with Black Label Decor has always had a passion for design. Her love for design shows through with creating one-of-a-kind, handmade decor for 2020 wedding trends!
Personalized Wedding Accents – 2020 Wedding Trends
Perfect photo shot of your groom and his guys standing next to their suits and personalized hangers.
A perfect way to send thank you cards from those that attended your 2020 wedding trends. Hand made laser cut signs!
The perfect touch for the bride and her bridesmaids! Hang your wedding dress and bridesmaid dress on custom made hangers. No need cheap boring hangers! A perfect gift, bridesmaid hangers, to add when asking your girls to be part of your big day.
*As seen in Utterly Engaged** The cake topper is the "icing on the cake" for your magical wedding day, as your 2020 wedding trends.
That perfect touch of class to add to your cake over a traditional bride and groom sitting on top.
Black Label Decor has added that touch of elegance and class to your wedding dress, suit and even your wedding cake for 2020 wedding trends.
The hangers include the notches for ease in displaying dresses for photos. You can order one or multiple hangers. If you need something special not in her shop she will be happy to help you. Wording for each piece can be hand-engraved.
You can choose the names, dates, titles and can choose the placement of the wording on the hangers. "The finishing touch starts with the Black Label" ©
Wedding Coloring Books – 2020 Wedding Trends
Wedding coloring books….love this idea! What a great way to keep the little ones at your wedding occupied. Personalized coloring books with your names and wedding date. Even adult coloring books are available.  The coloring books are hand-drawn to impress your little guests and keep them happy.
Your personalized coloring books for your wedding day can be found at Little Wee Shop.
Wedding Coloring Books – 2020 Wedding Trends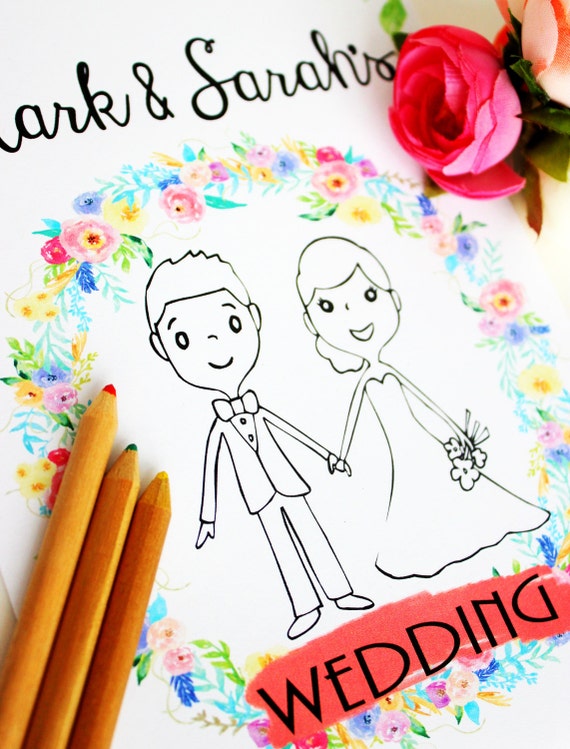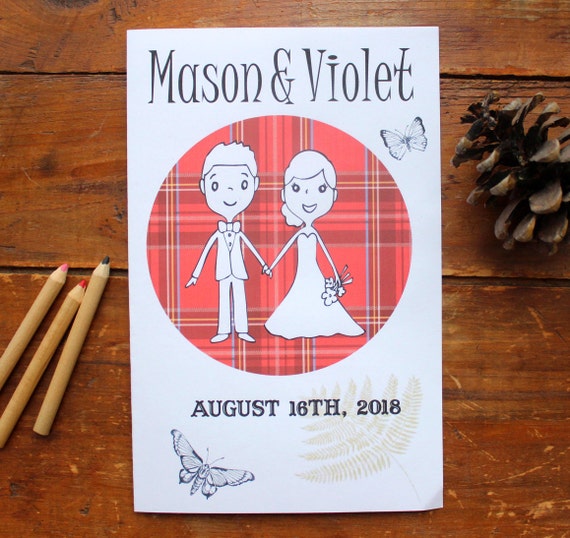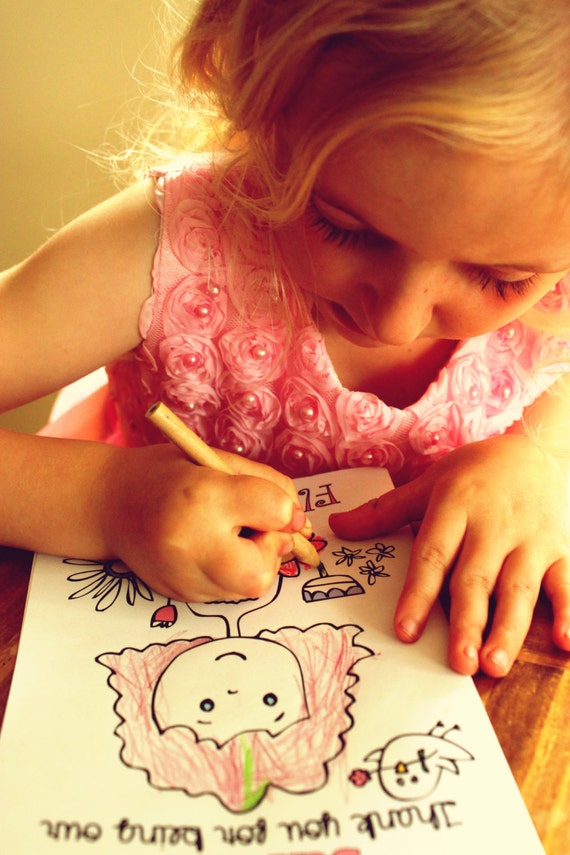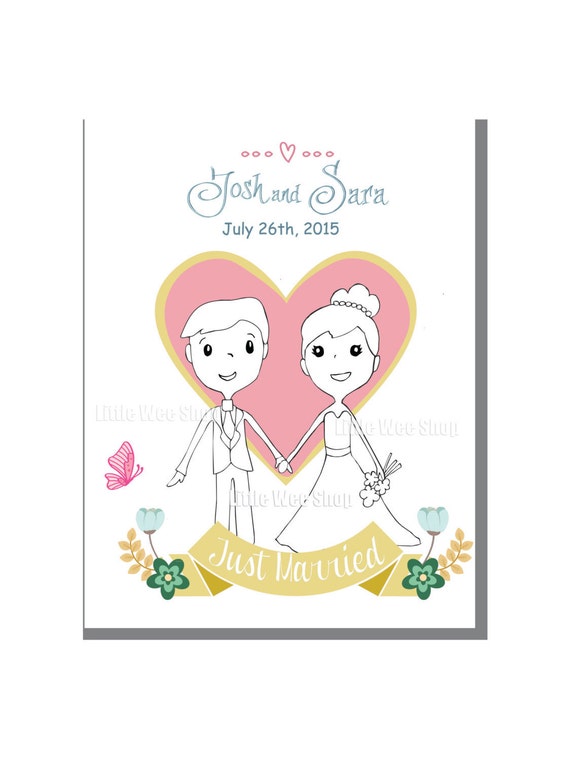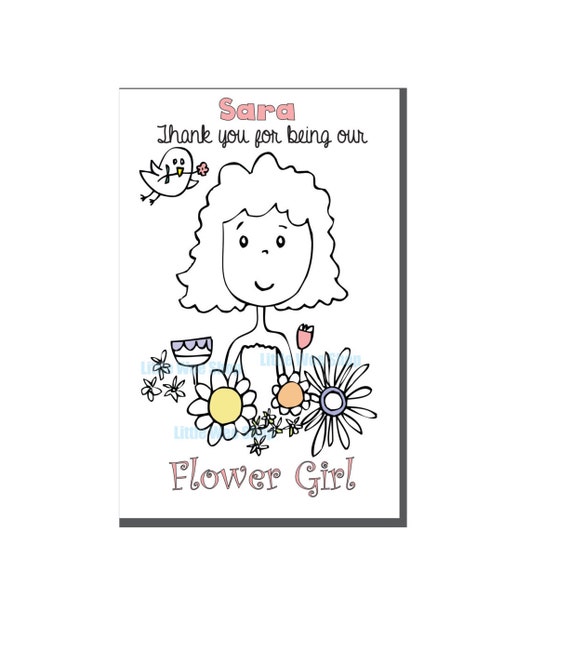 Wedding Cars On A Budget – 2020 Wedding Trends
Wedding Cars
As exciting as weddings can be, they are huge culprits for draining your bank account, especially when you add fancy wedding cars. If you have had the childhood dream of an extravagant wedding your whole life, with an entry on a gallant, royal steed and a designer wedding dress with the most intricate detailing known to man.
Whilst some aspects will be inevitably expensive, your transport doesn't have to be. Sure, a Rolls Royce is a stunning and traditional entrance, but in reality, this part of the wedding lasts no more than 30 seconds. So, if you're considering using your second-hand Renault, don't be ashamed!
Or, if you're looking for that little bit of inspiration, just keep on scrolling.
London Taxi Cab – Wedding Cars – 2020 Wedding Trends
Depending on how long you're in a taxi for usually, the ride can empty your pocket in a matter of hours. However, hiring one for your wedding day doesn't have to be so harsh to your bank account!
Actually, a London taxi cab can look really timeless on your wedding day, especially when decked out in white ribbon and fancy flowers, so you really don't need to spend all of that money on a fancy car just for one day.
This way, you can still arrive at your 2020 wedding trends in style, whilst using those pennies you saved on an even tastier cake (and why wouldn't you?)
Family Alternatives – Wedding Cars – 2020 Wedding Trends
If you're lucky, you might have a family member that owns quite an aesthetically pleasing car. If this is the case, never be embarrassed to ask them to chauffeur you to your wedding location! In fact, many family members will often feel honored at the opportunity, as who doesn't love to be responsible for the bride's arrival?
Or, if you're really blessed by angels, a grandparent or even great grandparent may be the owner of a traditional Rolls Royce, so why not pluck up the courage to ask them? Chances are the vehicle is sat lonely in a garage eagerly waiting for some use! The bonus? You don't need to spend a single penny!
White Campervan – Wedding Cars
As you may have seen quite frequently, the campervan is a popular mode of transport for many school proms, so hiring one for your wedding day really doesn't have to be expensive at all. If you conduct thorough online research, you could actually find campervan hire for as little as $60.00
So you really don't need to worry about spending a large amount on your mode of transport. Therefore, not only are you saving money, but you're also arriving at your wedding in a classic vehicle that looks stunning when complete with all of the wedding décor.
Coach – Wedding Cars – 2020 Wedding Trends
I know what you're thinking – "coaches are ugly, I'm definitely not turning up to my wedding in that!" but hear me out. Coaches are actually a very practical mode of transport; simply because they should be able to carry the majority of your wedding guests in one go.
Plus, whilst the standard coach can look reasonably dull, you can also decorate it with white satin ribbons and flowers dotted here and there. All you need to do is find a coach that matches your wedding color scheme, and you're good to go!
And of course, the best part is that hiring a coach for your wedding transport is incredibly cost-effective, so you really can't go wrong!
5 Ways To Add Some Sparkle to Their Wedding Day – 2020 Wedding Trends
Glitter Wedding Ideas
Every girl plans their wedding since the moment they understand the concept of relationships and marriage. Obviously that can be a different age for different people, but needless to say by the time they are proposed they have a really good idea of what they want. But as you get older there are a few tweaks here and there, to make the plan more sophisticated.
Sometimes, however, the five-year-old you should be heard, and in fitting with this year's major trend, that should be by using glitter at your wedding. Here are five ways to tastefully add sparkle to a glamorous occasion.
Glitter decorations
Preparing decorations with your bridesmaids can be a fun way to prevent anxieties about the event and do something fun. Whether it is table decorations for the reception or for the bridal bouquet, there are many ways to add an individual and creative touch.
The bouquet is one of the most important traditions to a wedding, after the dress of course, and adding sparkle to beautiful flowers can brighten, and enrich them. They can either be loose of stuck with invisible spray-on glue.
Your guests will spend a long time at the reception, and before the music starts or the dancefloor fills up it is worth adding extras to get them into the party spirit. This can just be small gifts, or nameplates, or a little thank you card. All of these can be glamorized and look exciting with glitter, especially for younger guests.
Glitter makeup
One of the biggest makeup trends of 2017 has seen glitter make up make it to the aisle. The advantage of using face glitter is it can help brides stand out on any occasion that should really be all about you.
It can be used with eye shadow, across the cheek, in your hair, or if you have opted for a shoulder-less dress then it can look very stylish on the shoulder or collarbone.
Alternatively, you can save it for the reception party. On a night of spinning mirror balls and your uncles "dazzling moves" then you can have your makeup made in the party spirit by quickly applying glitter during your touch up.
Sparkling dresses
This is the most personal part of many women's wedding plans and style will change on either personal taste, budget, or body shape. But if you're hoping for a dress that stands out on Instagram and looks great in your photo album, look for something that sparkles. This can either be with a smattering of glitter or woven in sequins.
Matching shoes
Us women love shoes, so when it comes to choosing the right shoes for the big day it can be a hard chore. One, is the style right, two, do they fit, three, can I dance in these all night? These are the three questions that need to be answered and sometimes a pair of shoes isn't the answer to all three.
You are having to be seen in these shoes all day though, and you don't want to look back and wonder why you picked something so boring. Having sparkly shoes can brighten a room, just ask Dorothy.
Themed weddings – 2020 Wedding Trends
Couples and wedding planners are all looking for new ways to make their weddings more exciting and individual, and themed weddings are a great way to achieve this. Whether it is based on a popular TV show or film, or just for it to be pink and sparkly, there are endless options.
A popular one recently for outdoor weddings has been a festival theme. This theme gets everybody in the mood for a party and doesn't require much more than a band, a marquee, outdoor food, festival makeup, wellies, and nice weather. Although what says the British festival better than rain.
Not all themed weddings are a disaster as Don't Tell the Bride will have you believe, and can display the personalities of you and your fiancé.
How to Use Star Projectors as Decor – 2020 Wedding Trends
Let's admit it – star projectors are so much fun to have. Imagine turning your bedroom into a vast galaxy of stars at night; it's just the perfect way to end your day before you doze off. But did you know that you can also use star projectors to make your celebration festive and entertaining?
Yes, they are perfect for any occasion, such as birthdays, anniversaries, Halloween, Christmas, New Year, and even prom!
Star Projectors
The following are the ways that you can use star projectors in any occasion:
1. Birthdays
Enjoy the illumination of a star projector on birthdays by placing them at your party venue. Your guests, particularly the children, will all be delighted once they enter your venue. The
children may even chase the moving stars all around the place.
A star projector can also be used on the dance floor. Instead of a disco ball, light up your star projector and let your guests dance the night away!
2. Anniversaries/family reunions
Inject fun in anniversaries and family reunions by installing a star projector in your reception. Instead of very bright light in the dining area, use very soft light and a star projector so your guests can eat heartily without feeling too self-conscious.
Don't forget to get your camera and take snaps. Smiling guests with different colors of stars all around them will produce stunning photos that you will cherish in the years to come.
3. Halloween
It is already very common to decorate houses with the usual Halloween-related things, such as pumpkins, spooky figures, ghosts, and spider webs. Elevate your game this year by putting these traditional Halloween decors outside your home and highlighting them with a star projector.
The effect would be a festive Halloween rather than a scary one. Expect treat-or-treaters to be knocking on your door every minute!
4. Christmas
Christmas lights are so yesteryears! Say goodbye to tangled cords and busted lights and say hello to star projectors. Place your star projector in your front yard facing your home. Indeed, it will be starry night as you celebrate Christmas with your family and relatives.
5. New Year
Don't remove your star projectors after Christmas yet. Brighten up your home with your star projector until the New Year celebration. It will make the New Year more exciting and joyous
for everyone.
6. Prom Night
Decorate the venue of your prom with lots and lots of star projectors for an unforgettable evening. They would make the dance floor enticing that even the shy ones will have the best time of their lives!
Star projectors are excellent ways to create a party ambiance. In your next big celebration, let your star projector light up your party!
Wedding Sparklers- 2020 Wedding Trends
What a fabulous way to add a little more sparkle to your magical day.  The Wedding Sparkler Store will work with you on helping you create the look and feel you want to add to your day.
Sparklers and lanterns have been a part of the wedding tradition for years, and a modern twist means that these wedding fireworks will make your big day unforgettable.
This post contains affiliate links and I'll earn a small commission if you shop through them.  This is how we help to make money so we can continue to bring you amazing content.
Custom Wedding Memorial Photo Charms – 2020 Wedding Trends
There is nothing like not having your person in your life and on your most important day of our life. This is my newest find and I love love love this idea.
CUSTOM WEDDING MEMORIAL PHOTO CHARMS
to honor those who cannot be with you on your special day!
How to Plan A Disability-Friendly Wedding – 2020 Wedding Trends
For the bride and groom having a disability-friendly wedding is important, the wedding is the best day of their life and it's a pretty awesome day for the guests too. It's always important to ensure that everyone can enjoy the day as much as possible, whether they're old, young, disabled or not.
If you have a guest attending your wedding that suffers from a disability, or you actually suffer yourself, there are many ways to ensure that your wedding is a disability-friendly wedding. After all, it's not fair for anyone to miss out on all of the wedding fun!
Venue
You must ensure that any disabled guests attending your wedding can easily navigate around the venue. Will, there be endless stairs that they need to attempt to use, or will there be ramps provided to allow them to move around in their scooter or wheelchair easily?
A lot of places sell mobility scooter accessories, allowing people with disabilities to bring a walking stick in case they can't use their mobility scooter, but this is often very inconvenient. Therefore, it may be smart to consider whether you actually need to hold your ceremony in a traditional setting, such as a church.
If you're not deeply religious, maybe consider holding your ceremony and reception at the same venue, as this way guests with disabilities will be able to get around much easier.
Designed By FreePik
The Dress
Putting guests aside, it's your big day! So, if you're the bride but suffer from a disability, you need to consider what kind of dress you are going to wear. This could depend on your approach to the wedding ceremony – will you use your wheelchair/scooter to travel down the aisle, or will you find a way to walk instead?
If it's the latter, most wedding dresses should work fine for you. However, attempting to walk can often put a lot of pressure and strain on the bride, so it might be worth opting for a wheelchair option. In this case, find a bridal shop that will happily tailor any wedding dress to your requirements, and ensure that you can comfortably sit in the dress.
To accompany the dress, some disabled brides will often decide to switch up their everyday wheelchair for a special one, but this is completely up to you.
Designed by Freepik
Seating
If any of your guests use a wheelchair or a mobility scooter to get around, you need to consider this when arranging the seating at your ceremony. If you are planning on having your ceremony at a traditional venue, such as a church, will there be a place for the disabled person to sit with their family and loved ones, as well as have a good view?
If you don't make important considerations like this, it can be easy for your guests to feel left out and unwanted. So, when making seating arrangements, always ensure that you put their best interests at heart and place them carefully amongst your other guests.
Transport
When one or more of your guests has a disability, you must consider all of their transport options for a disability-friendly wedding. If they're making their own way to the wedding, will there be disabled car park spaces at the wedding and reception venue?
Or, if they aren't able to drive themselves, will it be possible for them to have access to a taxi or other form of public transport from one place to the other? Without making this important consideration, you could find your disabled guest unable to attend your wedding, which would be disappointing for both yourself and of course, your guest.
Budget Friendly Wedding Favors
Weddings are a once-in-a-lifetime, happiest-day-of-your-life event so having budget friendly wedding favors is fun. They're also expensive. But a wedding on a budget doesn't have to be less remarkable than a lavish occasion is.
If you're planning a wedding and only have a limited amount of money to spend, consider taking some economical alternatives. For example, a skilled yet young photographer charges less than an experienced one but can still capture your best moments perfectly.
Another idea would be to use budget-friendly gift ideas as budget friendly wedding favors. Here are some suggestions.
DIY Favors
Image Credit: Favor Craver
Creating your own favors is significantly more economical than buying them—especially if you have a lot of guests. Buy wholesale craft supplies so that you can get a bulk discount. Extra materials can always be used for other projects.
The only disadvantage with this is that making your own budget friendly favors from scratch can take time. You may want to ask your groomsmen and your bridesmaids to help you prepare them. You can even produce fantastic results if one of your friends is artsy.
Besides this, budget friendly wedding favors usually need a creative touch, so you'll still likely need a bunch of crafting materials to add your flair to them.
Hot Cocoa and Marshmallows
Photography: AnyaFoto
This combination is perfect for weddings held during winter, when the chilly air invites a warm drink with friends. Of course, you need not make it on the day of your wedding as that would be impractical: the drink will go cold.
All you need to do is to prepare glass mugs (the ones with caps) and put cocoa powder in them. Top the mugs with marshmallows for added flavor and cuteness. On your reception night, your guests can just pour hot water into their respective mugs or save them for when they get home.
Potted Succulents
Photography: Cynthia Chung Weddings
Succulents are easy to nurture, hardy, and great as indoor plants. They're relatively inexpensive too.
If you have your own succulents, you can take cuttings off them and replant the seedlings in a glass jar filled with loam. Those new ones can then be given as favors for your guests at your wedding. The only expenses you'll incur are for the jars and your original plant.
Guests typically place small decorative favors on an out-of-the-way shelf in their homes then proceed to forget about them. But if you give them something to care for, they'll likely make it part of their routine to check up on it daily. To that end, succulents as budget friendly wedding favors can be a great way to start a lasting bond with your guests.
Beer with Personalized Labels
Gift ideas for groomsmen may also be used as wedding favors. For example, guests at a rock-star-themed wedding can each have their name and their role printed on a bottle label. Bottles of beer may seem like a cheap, lazy idea for favors, but slap a personalized label on them, and they'll turn into unforgettable gifts that your guests will cherish.
If you're going this route, go the extra mile and find out what poison each of your guests drinks. Giving them their respective favorites will make the favors even more special.
Final Touch
No matter what kind of favor you're getting your guests, it's always a good idea to add a short message to them. A simple "Thank you" should be enough. The gesture adds sentimental value to any item and makes it priceless regardless of how much the item costs.
After all, favors function as mementos. They serve to remind your guests of the wonderful experience they had at your wedding. The more unique your favors are, the more likely your guests will recall fondly your special day.
Photo URL: unsplash
Personalize your wedding day with a little charm and class by Beau Coup.
Wedding Cover-Up Shawls and Wraps: The Benefits They Can Bring
Your wedding day is one of the most important days of your life. After all, this is where you seal the deal with the person that you're going to spend the rest of your life with. As such, like other special occasions, you've got to look your best. Aside from getting the best hairstyle, you've got to buy the best dress.
It is a fact that people do tend to be "extra" when it comes to their wedding dress. It's their special day, after all. For instance, 25% of brides visit more than three boutiques and 70% try more than three dresses before they find the wedding dress of their dreams. A total of 31% of brides prefer A-line dresses, with the rest preferring mermaids, ball gowns, and sheath dresses. Color schemes vary, too; 40% prefer ivory colors, and the rest opt for white, soft white, and champagne dresses. Spending escalates, too; 32% of brides spend more than $1,000 for their dresses, and 18% buy a second dress for the reception!
However, did you know that there's a way to look luxe without breaking the bank? Accessories such as cover-up shawls, wraps, and shrugs can actually accentuate your body and give you that much-needed style to set you apart from other brides.
Here are other benefits of wedding cover-up shawls and wedding wraps:
Spice up the occasion with a bit of color:
Your wedding gowns will most likely be a shade of white, unless you want to be extremely radical and go for an entirely different shade of color. Traditions will most likely make you go with a white dress. If you love colors, you might not be amused. Shawls and covers allow you to add color to your plain white dress and mix and match patterns that won't entirely deviate from your gown. They allow you to show off your fashion sense and personal style, too!
Add a flair of mystery to your figure:
If you chose a dress without sleeves, a shawl or a wrap is a perfect addition. The purpose is not to hide your arms or your figure, though. Rather, having a shawl around your upper body does give you that mysterious and dramatic "vibe" that will surely make heads turn upon your arrival, especially if you want to be a bit "extra" in your wedding.
Symbolic for metamorphosis and transformation:
Aside from the mystery vibe a shawl or wrap brings, it can also be a symbol of metamorphosis and transformation.
Imagine wearing a shawl or a wrap that covers the main details of your upper body and taking it off later on – your personal take on "lifting the veil" and your transition from a single person to a happily married one. It's like saying you're ready for your new life.
Additional layer of comfort against the elements:
No matter how meticulously you planned your big day, there are still things that you can't control, such as the weather. Sometimes, the elements can get in your way, whether during the ceremony or in the reception. The venue can unexpectedly be cold, warm, or windy. It's best to come prepared. A shawl or wrap can protect you against these elements and ensure that you will be comfortable, so you can focus on the ceremony and enjoy your celebration.
Easy to acquire and customize:
Unlike other forms of accessories, shawls and covers can easily be bought in stores and fashion outlets. What's interesting is that you can actually have a shawl or wrap specifically designed for you, so you have a unique accessory that no one else will ever have.
The Takeaway: Upgrade Your Wedding Wardrobe with Style
The inner wedding designer in you may initially doubt cover-up shawls and wraps for your wedding. Isn't women's clothing made to showcase its beautiful designs and the wonderful body of women? Interestingly, shawls and wraps can actually add a bit of spice, style, and pizazz to your wedding dress. Get them ready for your big day!
attoos and Weddings: How To Compliment The Two
Your wedding will happen in a few months and you couldn't be happier…make it special with wedding tattoos! This has been the moment you've been waiting all your life for. You and your future spouse have been talking a lot about the preparations for the wedding – you want everything about it to be flawless and perfect. And because you don't consider yourself a traditional bride, you want to make your wedding memorable by incorporating wedding tattoos. You have several on your body and now, you're thinking of ways on how tattoos and your wedding can complement each other. This idea of yours might be unconventional to some but it can work.
Wedding Tattoos
Here's how:
1. Highlighting tattoos on your wedding invitations:
This is the first thing your guests will see once you invite them to your wedding so why not use it to show your love for wedding tattoos? You can design your invitations with images or prints similar to tattoo designs. If you have a tattoo on your body, you can even print the same exact design in your invitations for a more cohesive theme. There are several sources which can be found online so you'll not have any problems doing this. Once your guests receive your wedding invitations, they'll clearly know what the wedding theme is!
2. Using a tattoo-themed wedding cake:
Tattoo designs also look great when translated into wedding cakes. If you're someone who has a thing for "true love" banner symbol tattoo designs, use this as an inspiration for your cake. Or you can also customize your cake design by using dotwork or watercolors, which has now become a trend in tattoo designs.
3. Playing around with temporary wedding tattoos:
Temporary wedding tattoos are not for kids anymore. These can be used in your wedding in a variety of ways. For starters, you can use temporary tattoos as wedding favors. This is not your typical wedding favors so this will surely leave a mark on your guests – figuratively and literally! You can also opt to set up a temporary stall outside your wedding venue where guests can have themselves tattooed. And you don't have to worry about spending too much to turn this idea into a reality. There are cheap temporary wedding tattoos sold, and you can even make one of your own.
4. Choosing the right wedding dress:
Your wedding dress is one of the highlights in your wedding. And this is an excellent avenue to showcase your tattoos. To determine what types of wedding dresses work well with your weddings tattoos, consider these tips:
The sweetheart cut: Do you have a chest tattoo? Complement this with a sweetheart cut wedding dress. This design has the right amount of cut while creating the right amount of space to show-off your tattoos. A sweetheart cut wedding dress works for small-chested and busty brides too!
A stunning low-back: If you've used your back as a canvass for your wedding tattoos, consider wearing a wedding dress with a low-back design. There are many variations to this design but as a rule of thumb, make sure that what you're wearing has a high neckline just to balance the look.
Bold and strapless: This is the perfect wedding dress if you have a full arm tattoo. A strapless wedding dress will highlight your tattoos without any distractions. Your tattoos will be the first thing your guests will see once you arrive at the venue!
Accentuate your design: Another way of making sure that your tattoos stand out during your wedding day is by covering parts of your skin which are un-inked and only show those with a tattoo. For example, if you have a rib tattoo, choose a wedding dress that accentuate your rib area. This will easily draw the attention of your guests to your wedding tattoos.
If you're considering adding more wedding tattoos in time for your wedding day, places like The Black Hat Tattoo may be able to help.
Status quo would tell you that wedding tattoos have been used as an avenue for art and self-expression. If you have one, you shouldn't cover it up just because it's your wedding day. On the contrary, you can use wedding tattoos as a theme for your wedding. It might be uncommon to do, but it can always be done. Use this as your reference, and for sure, your tattoo will look good during your wedding day!
Victor Miller
Victor Miller is a writer contributing pieces to The Black Hat Tattoo. As a writer, he seeks to make sure his readers understand his topics by making sure the language he uses is appropriate and easy to digest. He supplements his writing by reading during his free time, or trying out creative writing.
To help lessen the wedding day stress, there are a few bridal do's and don'ts with accessories that brides can stick to so they can avoid any mishaps. There isn't anything that a bride isn't allowed to do, it's their special day and guests will never comment on something that may not go with the outfit. This guide will help brides make some good decisions and hopefully inspire some ideas.
Bridal Do's and Don'ts
Pick the Dress First
Likely the most important part of the day (including getting married) picking the dress first is key to match all your accessories with it. It only makes picking the dress harder if you become committed to certain accessories that might not match the dress you like. The dress is the centerpiece of the whole outfit so it's important to love it over everything else you pick.
Tiaras
The perfect excuse to finally wear a crown and be the most important person in the room, for any other occasion a tiara might be overkill but on your wedding day finding the perfect one to match your dress is a great idea. If you're not the type to wear flashy accessories a tiara might not be the best idea, but there are still plenty of ideas to consider headbands, fascinators and bridal hats are all common choices.
Use Complementary Accents for the Bridal Party
It's hard to ignore the ladies who make the day possible, and possibly matching a subtle accessory to them is a nice final touch. Maybe even make it a gift for them, look at designer watch brands or ladies jewellery that you think will match the gowns.
Be Comfortable
Often, a bride can like the idea of an accessory more so than wearing it. Some accessories may look nice but you'll find them to be uncomfortable after a full day of wearing them. On your wedding day, you want to look amazing but also feel amazing, you might struggle to concentrate of enjoying the day if your heels are too high or jewellery is irritating you, being comfortable is key to a wonderful wedding day.
The Don'ts
Overdo It
It's the easiest thing in the world to overspend on your wedding day, especially on your appearance. Making sure you don't overdo it on accessories, jewellery and make-up will keep the attention on you and not the overbearing outfit. The idea with accessories is for them to complement the dress and your appearance and not steal the show away from yourself.
Cheap Jewellery
This isn't to say that you must buy the most expensive accessories but there are reasons to avoid cheaper alternatives. Rhinestones, for example, don't reflect light properly and whilst taking a photo it can ruin the shot, another risk with cheap jewellery is skin irritation, you don't want to be focused on an itch or discoloration on your big day.
Compelled to Stick to Tradition
Most girls dream of a white wedding, white dress, satin gloves and pearls. Wedding trends have changed vastly over the years and if you find that some accessories don't work for the look, don't feel the need to have it all. With jewellery, more colour options have been popular over the year so don't feel compelled to stick to white.
Leave it Until the Last Minute
Planning is key to reducing stress for the wedding day, picking the dress and accessories should be a fun part of the planning and leaving it to the last minute will take that enjoyment away. Rushing choices and being disappointed with alternatives are likely outcomes if you leave this choice until the last minute.
Wedding Day Survival Kit – 2020 Wedding Trends
Why you should consider teeth whitening
Now that wedding planning is in full swing and you've set a date, you'll be thinking about how you're going to look on the big day. Of course, you'll want a beautiful dress, your hair done to perfection, and flawless makeup, but have you thought about how your teeth will look?
From finally saying goodbye to those coffee stains to having fantastic photos you can treasure forever, there are so many reasons why you should consider getting your teeth whitened before you say "I do". Here are a few of them:
1. You want to look and feel amazing
Your wedding day is the most important day of your life, so you'll want to look your absolute best with a killer smile worthy of a glossy magazine cover. When you know you look fantastic, you'll also feel fantastic and be able to enjoy your day without worrying about whether your teeth are letting down your entire look.
2. Teeth whitening will get rid of stains
Some of our favorite foods and drinks such as coffee, red wine, and even certain fruits can stain our teeth. A lifetime of eating and drinking lots of different things can leave us envious of the gleaming pearly whites we had in our youth, but teeth whitening could give your gnashers a new lease of life.
If you've been thinking about getting it done for years, what better time than before your wedding day? Trust us, your wedding guests will notice the difference between a discolored smile and a bright white one.
3. You'll impress your other half
It goes without saying that your other half loves you the way you are (they wouldn't be marrying you otherwise!) but of course you want to wow them on your special day. By whitening your teeth before the wedding, you'll be sure to dazzle them with your gorgeous smile as you walk down the aisle.
4. It doesn't have to break the bank
Why spend a lot of money on professional bleaching? After all, weddings are expensive enough! There are so many products out there that enable you to whiten your own teeth for a fraction of the cost. Take a look at these reviews of toothbrushes and teeth whitening kits and find something within your price range.
5. You'll have amazing wedding pictures
You'll be photographed an awful lot on your wedding day and want to look your best in every photo. When you fish out your wedding album in years to come to show your kids and grandkids, you'll want to remember the amazing memories you created, not be full of regret over neglecting to whiten your teeth.
6. You can do it yourself
With so many different types of toothbrushes and teeth whitening kits out there, making your smile whiter and brighter has never been easier. What could be more hassle-free than doing it yourself from the comfort of your own home?
Rose Wedding Bouquet….an elegant touch to your wedding day. Click on the image for more wedding ideas and tips. 
A wedding is a major event in anybody's life and every bride wants to look and feel fantastic on her big day. This is especially important when documenting every moment on social media is an essential part of the day for most people now.
Some women are going beyond the routine hair and makeup appointments and are instead booking in with a plastic surgeon before their wedding. Check out Longevita surgery procedures for the life-changing plastic surgery options available, whether you're a bride-to-be or not.