Your wedding should be a unique experience so eliminate wedding mistakes. It should become the most beautiful and well-planned day of your entire life! The look and feel of your wedding and the experience should be a lively mix of both your choices and options.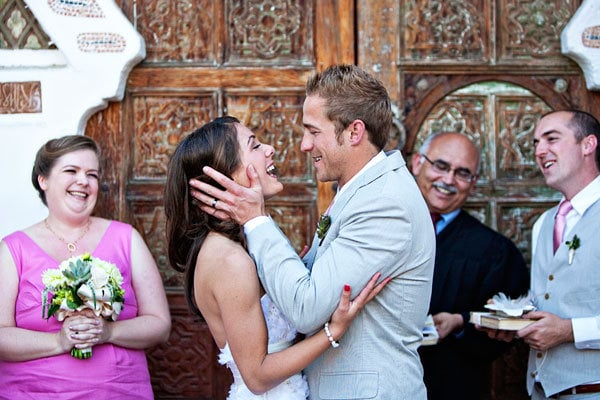 Photo Credit: Joy Marie Photographers
Wedding Mistakes
There are plenty of tips and tricks to get your wedding right, but not enough on what to avoid. Katie from Orla James believes nothing can be worse than your hair flying around or your 6-year-old flower girl crying while walking down the aisle.
While mistakes are inevitable, let us look at some that you can avoid beforehand.
Wedding Mistakes To Avoid
Wedding Mistake 1: Don't forget to set a budget
Many couples forget to set a wedding budget for their wedding in the excitement of planning the entire day. Don't make this costly mistake. Budget for everything from the venue, travel, accommodation, flowers, table décor, linen, photographers, and videographers, to the bridal gown, bridesmaids dresses, tuxedos, hair and makeup specialists, the food menu, the open bar, and the rings!
Wedding Mistake 2: Don't leave venue planning for the last minute
Check out wedding and reception venues 8 – 9 months in advance so that you are able to get the date you want. Many good venues get booked in advance and are unavailable for your date. Scout and book your venue early.
Wedding Mistake 3: Don't tell everyone about the wedding planning
We know it's hard not to constantly talk about the wedding, but don't tell everyone. There might be plenty of people you might not invite to the wedding and they might end up being extremely offended. Besides this, most people have had some part in planning a wedding and might offer too many suggestions that leave you confused and unsure about your own wedding planning.
Wedding Mistake 4: Don't let the bride's father foot the entire bill
Many couples today decide wedding details on their own. It is not right to expect the father of the bride to foot the entire bill for the wedding. Going Dutch (splitting the bill evenly) is the right way to go. This also ensures that you and your fiancé have an equal say in the wedding ceremony and celebrations before you both start your wedded life together.
Wedding Mistake 5: Don't micromanage the entire event
Employ the services of a good wedding planner and plan the entire wedding in detail months before the date. The wedding planner might also have useful tips to help the wedding go smoother without any hitches on the last day. Delegating the work will ensure that you are able to enjoy your wedding without fretting over every last detail.
Wedding Mistake 6: Don't forget to vet the speeches beforehand
The Father of the Bride, groomsmen speech and the best man speeches are so important to make on the day of the wedding. Check the speeches beforehand to avoid any nasty surprises on the day of. If you're uncomfortable with anything mentioned in their speeches, ensure you let them know (kindly) that you'd like them to amend the speeches.
Wedding Mistake 7: Don't drink too much alcohol
We know it's your wedding, and you want to join in on the fun. Always remember that you're the star of the evening and you must remain graceful and poised to entertain your guests and accept their blessings. Getting drunk at your reception will leave a bad impression in the minds of everyone and be one of the biggest wedding mistakes.
Another reason to avoid excessive alcohol is so that you always look picture perfect for the photographs.
Wedding Mistake 8: Don't leave the dress fitting for the last minute
Dress fittings and tuxedo fittings for you and your fiancé are extremely important. Don't make the mistake of leaving the dress fittings too close to the wedding date. Any alterations and adjustments need to be made well in advance so that there are no delays later. Also, don't reduce the dress sizes based on a size you want to achieve later.
Wedding Mistake 9: Don't forget trials for hair and makeup
Brides and bridesmaids – do not make this mistake! Get your hair and makeup trials finished at least a month prior to the wedding date so you can make any changes you need. Select your hair and makeup products and brands in advance. Do not depend on last-minute additions to your hair and makeup.
Wedding Mistake 10: Don't forget to break your shoes in
Break your wedding shoes in well before the wedding or it will be one of the most painful wedding mistakes. Wear them around the house so that you don't have painful feet on the day of your wedding. Make them comfortable with your size and weight.