Disability-Friendly Wedding
For the bride and groom, the wedding is the best day of their life and it's a pretty awesome day for the guests too. It's always important to ensure that everyone can enjoy the day as much as possible, whether they're old, young, disabled or not. If you have a guest attending your wedding that suffers with a disability, or you actually suffer yourself, there are many ways to ensure that your wedding is disability-friendly. After all, it's not fair for anyone to miss out on all of the wedding fun!
Venue
You must ensure that any disabled guests attending your wedding can easily navigate themselves around the venue. Will there be endless stairs that they need to attempt to use, or will there be ramps provided to allow them to move around in their scooter or wheelchair easily? A lot of places sell mobility scooter accessories, allowing people with disabilities to bring a walking stick in case they can't use their mobility scooter, but this is often very inconvenient. Therefore, it may be smart to consider whether you actually need to hold your ceremony in a traditional setting, such as a church. If you're not deeply religious, maybe consider holding your ceremony and reception at the same venue, as this way guests with disabilities will be able to get around much easier.
The Dress
Putting guests aside, it's your big day! So, if you're the bride but suffer with a disability, you need to consider what kind of dress you are going to wear. This could depend on your approach to the wedding ceremony – will you use your wheelchair/scooter to travel down the aisle, or will you find a way to walk instead? If it's the latter, most wedding dresses should work fine for you. However, attempting to walk can often put a lot of pressure and strain the bride, so it might be worth opting for a wheelchair option. In this case, find a bridal shop that will happily tailor any wedding dress to your requirements, and ensure that you can comfortably sit in the dress. To accompany the dress, some disabled brides will often decide to switch up their everyday wheelchair for a special one, but this is completely up to you.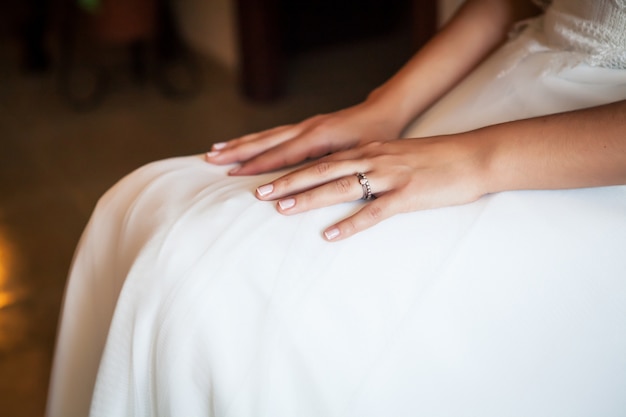 Seating
If any of your guests use a wheelchair or a mobility scooter to get around, you need to consider this when arranging the seating at your ceremony. If you are planning on having your ceremony at a traditional venue, such as a church, will there be a place for the disabled person to sit with their family and loved ones, as well as have a good view? If you don't make important considerations like this, it can be easy for your guest to feel left out and unwanted. So, when making seating arrangements, always ensure that you put their best interests at heart and place them carefully amongst your other guests.
Transport
When one or more of your guests has a disability, you must consider all of their transport options. If they're making their own way to the wedding, will there be disabled car park spaces at the wedding and reception venue? Or, if they aren't able to drive themselves, will it be possible for them to have access to a taxi or other form of public transport from one place to the other? Without making this important consideration, you could find your disabled guest unable to attend your wedding, which would be disappointing for both yourself and of course, your guest.
Designed by Freepik
A sketch of the dress and suit
Wedding day gift exchange and wedding guestbook idea.

Use Coupon Code 'discount' & Receive A Discount Off Your Sketch Order